Your Journey is Our Journey
Your Journey is Our Journey
ReVerve is a small but growing practice that opened in 2019. Dr. Chason Hendryx founded and runs the practice, supported by a network of other allied health practitioners.
Dr. Chason Hendryx, owner and physical therapist
Dr. Chason Hendryx is committed to working with his patients to achieve their optimum health. During his ten years in physical therapy, Chason has developed a holistic, long-term approach to helping his patients address a wide range of musculoskeletal issues. He has a special interest in helping patients with chronic pain, complicated health histories, and performance goals.
Chason specializes in orthopedic manual physical therapy. He treats patients with a combination of hands-on techniques, movement analysis, and exercise. This includes advanced training in joint mobilization, soft tissue and fascial manipulation, proprioceptive facilitation (PNF), movement analysist, and specialized exercise programming to facilitate pain reduction and healing.
Chason has also received advance training and specializes in the use of electrical stimulation to reprogram the neuromuscular system to improve movement and reduce pain. He was the first Seattle-based physical therapist to be licensed to use the Neufit NEUBIE next-generation electrical stimulation technology.
Additionally, he is an expert in exercise for sports performance, applying a combination of manual therapy, electrical stimulation, and other techniques to help athletes reach peak performance.
Chason is a life-long resident of the Pacific Northwest. Graduating with honors from Tacoma's Pacific Lutheran University, then receiving his doctorate in physical therapy from University of Puget Sound to finally, starting ReVerve in Pioneer Square, Seattle.
He and his wife are raising their three boys in West Seattle. Rain or shine, Chason commutes by bike to the office, trying to stay in "dad-shape" for invigorating trips into the mountains with family and friends. Personal interests include rock climbing, mountaineering, and distance running, and these are complemented by the endurance demands of keeping up with three busy kiddos.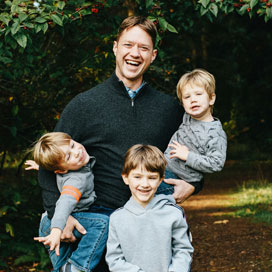 I've always loved the freedom of movement, especially in the outdoors. I'm a climber and runner at heart. I also have deep interests in the science of optimum health. This is why I dedicated my career to helping people excel at the activities they love. I value the long-term relationships I build with my patients. There is nothing more important than seeing a patient walk with confident balance after years of instability, run a mile when they never thought they would run again, regain feeling in their fingers after years of numbness, or achieve a personal best in their race.
– Dr. Chason Hendryx
Our Values and Commitment to You
Excellence
We deliver the highest quality care with dedication, professionalism, and humility.
Value
We provide an organized, personalized experience to maximize your time and deliver results.
Compassion
We listen and meet you where you are in life to help achieve your goals.
Knowledge
We learn from our patients and colleagues. We stay current on the latest research and treatments to deliver the best results.
Partnership
We are your partner in health and will collaborate with your other medical and wellness practitioners to help you succeed.